Nails
Hands
Spa Manicure $20
A full manicure with massage & nail polish application
O.P.I GelColor/Shelac  Manicure $30 
is a soak off gel system that is applied like a polish & cured in an LED Light. It lasts for weeks & will help protect the nails from damage. It is easily removed by the aesthetician when you are ready for a change.​
Bio Sculpture Gel Spa Manicure $40 
is the healthiest gel product on the market made in South Africa including vitamins to promote the health of your nail.  Bio Sculpture is porous therefore your nails are able to breath while you have it on.  Bio Sculpture is also a free edge sculpting product to create nail tips without the glue…$2.00 per nail additional.  Tips are also available at $1.00 per nail….glue is applied to the nail.  
Polish Change $8
Quick nail filing & polish application
Men's Manicure $15
A manicure without the polish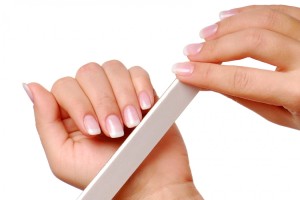 Feet
Spa Pedicure $35
A full pedicure with massage & nail polish application focusing on any problem areas, customized for individual needs.  Sit back relax and enjoy!
Footlogix Therapeutic Spa Pedicure $45
Pamper yourself with the relaxing aromatics of the natural seaweed and natural ingredients of our Footlogix products.  Footlogix is a transformational pedicure product where you will see instant results.  Ask us about the Footlogix take home mousse that will keep your feet looking like you just left our spa.  We are the Footlogix distributor for Woodstock and area.  
Polish Change $8
Quick nail filing & polish application
Express Pedicure $25
A quick pedicure for those in a rush.
Men's Pedicure $20
A pedicure without the polish
Kids Manicure & Pedicure $30
A treat for the little ones (age 12 & under)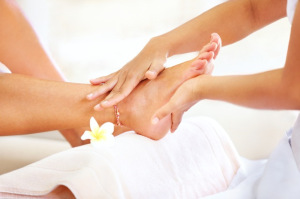 Add Ons
French Polish add $5
The nail tip is painted white & an elegant, sheer pink is put on top. If you're feeling daring, any colour will work.
Nail Art (per) add $2 and up

Fun or elegant nail art done by hand.
Rhinestones add $0.50 per stone or decal

Add a rhinestone of any colour or a nail decal.
Paraffin Manicure add $5

A warm moisturizing wax treatment for the hands.
Paraffin Pedicure add $10
A warm moisturizing wax treatment for the feet.